Reward achievements with saving points
.
IncentiveApp allows managers to incentivise employees for special effort, contribution or results with saving points. Managers have control over the necessary motivational levers to influence goal achievement. Employees enjoy being seen and recognized for their great work and can redeem saving points for what they want most.
IncentiveApp in three steps
.
Benefits of IncentiveApp
.
1.
HR can empower managers
IncentiveApp allow managers to communicate the importance of goals and motivate employees who show progress towards reaching them.
2.
Managers can reward individuals
People leaders can differentiate between individual performers and motivate team members for marked progress and performance.
3.
Performing employees feel recognized
Employees experience the joy of having their great work noticed, appreciated and rewarded.
Use an easy wizard to hand-out saving points
.
IncentiveApp offers a wizard you can use at any time to reward performing team members with saving points. Add a small note to explain why it was earned. This way, you communicate your goals and align people on them.
Employees receive an award notification email
.
IncentiveApp alerts employees when they received saving points. Employees can at all times keep tabs on saving points they received from their manager for great work.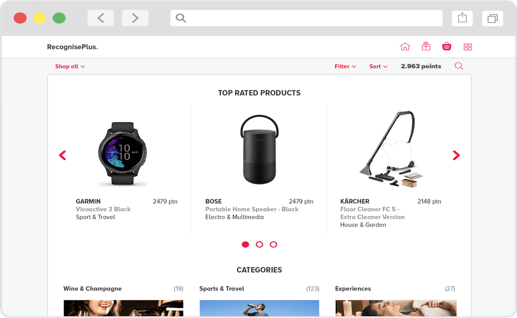 Employees can save for what they want most
.
IncentiveApp offers on online shop with experiences, dining or travel vouchers, top merchandise and retail vouchers. They can redeem when they want for what they want most.
What employees can get
.
Explore a wonderful world of 150,000+ rewards. Discover a selection of our branded goods
retail gift vouchers, exciting experiences and so much more on our catalogue page.
The leading companies trust us
.
For more than 25 years, forward-thinking companies have trusted us to create positive work cultures where employees grow and perform. We pioneer HR innovation in employee experience, have a world-class customer success team and delight your employees.
One of our success stories
.
"Thanks to our 'Blue Diamond' recognition program, we were able to create
sustainable behavioural change."

Jo Van Moer, CEO Van Moer Logistics